Motorcyclist Klymčiw heads to Dakar: I have the world's top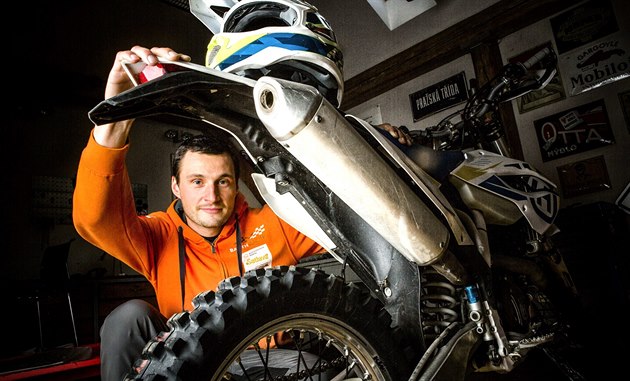 Early in the afternoon by airplane first to Amsterdam, then about two hours waiting and overnight to Buenos Aires, where he will start his second Rallye Dakar in a few days.This will be the closest program to the English competitor, Ondřej Klymčiw, who a year ago as a newcomer surprised the 20th place in the overall classification. The factory riders also count on it and in the upcoming Dakar Klymčiw will be one of them – "
" I went to Mattighofen (Austria's headquarters) and asked them if I could not race for them, "said a 30-year-old rider , which will be a part of a factory B-team.
Because it's done, it will use its support for the upcoming Dakar. "It will help tremendously, because the conditions are extremely hard and any technical problems that are always there needs to be solved very quickly, regardless of fatigue and the time of day," explained the motorcyclist.
For the same reason, Karel Scheder, the man who is also his driving coach, will again be a key person for him.Together they passed the Greek Serres Rally, where Klymčiw ran first and Scheder second. Besides, Klymciw was eighth at the Merzouga Rally in Morocco and twenty at one of the World Championships in Sardinia, Italy.
"I did not neglect anything in my preparation," he said. "Throughout the year, I've had a hard competition, because it's the most important thing for a competitor. And I knew I had a fight with the world's top, "he said resolutely. In the motorbike saddle (rally, enduro and motocross) he spent 421 hours in a row; besides, he traveled nearly 3.5 thousand kilometers by bike, another 320 run and topped the gym.
The race starts with a starting number of 31, which is a significant shift compared to 160 last year. "A year ago it would have been much better. Now us 2.A short prologue is waiting for January to determine the start of the first round. That's why the number is more motivating, "Klymčiw said.
The claims are great. "Last year's Dakar was a great experience for me, I could have a taste of it. This is completely different this year. I believe I will not disappoint sponsors and collaborators without whom I would never get to Dakar. I definitely want to improve the position last year, "Klymčiw said, expressing the wish that all the participants in the race should reach their goal.